Monday, May 2nd, 2011
A new study proves that gastric bypass weight loss surgery reduces the symptoms of diabetes.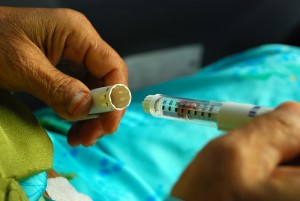 Scientists have known for some time now that patients with type 2 diabetes who undergo gastric bypass surgery often find that in addition to the losing weight, their bodies' response to insulin often improves dramatically. About 50 to 80 percent of diabetics who get gastric bypass surgery have also had their diabetes go into remission.
Also read: 
Gastric Bypass Surgery: Good for the Heart
Until recently, scientists were not able to explain exactly how gastric bypass surgery affects diabetics' blood sugar levels. Now, according to an

LA Times

article, new research has provided some interesting clues as to the health benefits of bariatric surgery for patients with type 2 diabetes- health benefits that seemingly have nothing to do with the weight loss itself.
Here are the details of that study, which was published recently in

Science Translational Medicine

:
Scientists from Columbia University and Duke University studies two control groups of obese diabetic patients at a New York hospital.
One group of 10 individuals agreed to gastric bypass surgery; another group of 11 people who suffered morbid obesity were put on a strict diet regimen.
On average, each of the obese diabetics in both groups lost between 22-26 pounds.
Next, scientists compared the levels of circulating amino acids and acylcarnitines in blood tests collected from both groups. Previous studies, such as reported by

Web MD

, have proven a strong link between "branched-chain" amino acids and resistance to insulin.
Within 1 month of receiving weight loss surgery, the gastric bypass patients had significantly lower levels of the branched-chain amino acids; obese diabetics who lost weight by dieting showed little or no change in their branched-chain amino acid count, and no significant improvement in their response to insulin.
Decreased branched-chain amino acid levels
directly decreased that patient's resistance
to insulin.

"Something happens after gastric bypass that does not happen as much after the diet-induced weight loss," explained Dr. Blandine Laferrere, associate professor at Columbia University.
Also read: 
Diabetics, Take Heed
This

Reuters

report describes the gastric bypass procedure as a Roux-en-Y type of bariatric surgery, in which doctors essentially reduce the size of the stomach pouch, causing patients to eat less.
Christopher Newgard, professor at Duke University, who also was involved in this study, believes that these metabolic changes are case-specific to the gastric bypass surgery used for this research; he doesn't believe the getting a Lap-Band would produce similar results in obese diabetics.
Now that researchers understand how gastric bypass surgery impacts insulin resistance, scientists hope to develop a diabetes medication which will replicate these results without the need for surgery.
Also read:
10 Mistakes Gastric Bypass Patients Often Make
Teens and Weight Loss Surgery: Worth the Risk?
Sources:
USA Today, NPR, Reuters, LA Times, Web MD