Monday, December 5th, 2011
Is painful tingling in your hands and feet rubbing you the wrong way? Do you suffer sharp, prickly tingling in your face, or fingers and toes? Chronic peripheral neuropathy causes numbness in your fingers, hands, feet, and toes- that feeling you get when your legs "fall asleep."  Several diseases and conditions may cause neuropathic pain symptoms; the only way to treat the never-ending tingling in your hands and feet is to find out what's causing it…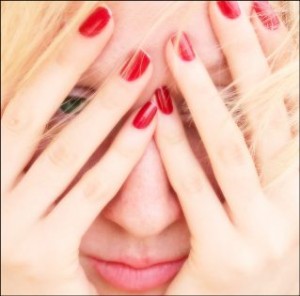 What causes annoying tingling in the hands and feet?
Pernicious anemia
One of the earliest symptoms of vitamin B12 deficiency anemia is neuropathic pain- sufferers of vitamin B12 deficiency feel sharp, achy tingling in the hands and feet, numbness, "pins and needles," or a painfully swollen tongue.  
Even if you eat sufficient food sources of vitamin B12 from meat, fish, and dairy sources, you might have dangerously low B12 levels.
Causes include autoimmune disorders, gastrointestinal diseases or surgeries, drug interactions, or the inability to produce intrinsic factor in the stomach.  To find out if you have vitamin B12 deficiency, ask your physician for a vitamin B12 blood test- you might require vitamin B12 supplements.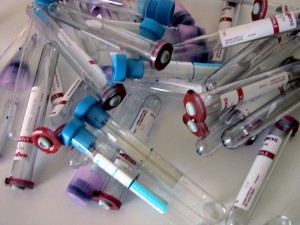 What are the Symptoms of Pernicious Anemia- B12 deficiency?
Underactive thyroid
Hypothyroidism causes symptoms similar to vitamin B12 deficiency, like "brain fog," fatigue, depression, muscular pain, and numbness or tingling in your hands and feet.
Sitting and standing
Sitting or standing for long periods without moving or taking a break- washing the dishes, standing by a register, or sitting at a computer for hours- can cause prickly tingling in your feet and legs.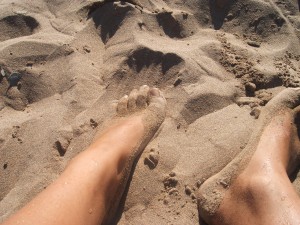 Vitamin B12 Deficiency. Are you at Risk?
Striking a nerve
If you have suffered a head or neck injury, then you may experience numbness in your arms. Similarly, a lower-back injury could cause painful numbness in your legs.
Shingles
If you've ever had the Chicken Pox, then you're a candidate for shingles.  The herpes zoster virus appears around middle age, and causes neuropathic pain such as painful skin rash, itchiness, red blisters, and painful tingling and numbness.
Frostbite
Both frostbite and atherosclerosis (arterial plaque build-up) restrict blood supply to your extremities, causing severely painful numbness in toes, hands, feet, or fingers.
Nerve pressure
If you have suffered a herniated disk, then painful nerve pressure on your spine may cause tingling and numbness in legs.  Dilated blood vessels, scar tissue, infections, or tumors may also cause severe peripheral neuropathy.
Carpal tunnel syndrome
Carpal tunnel syndrome caused by constant repetitive motions, such as typing or knitting, causes aching in your hands, fingers, and wrists.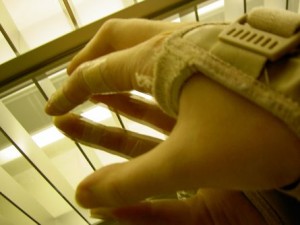 Multiple Sclerosis
Multiple Sclerosis (MS) is a disease that affects the brain and spinal cord, causing feebleness, reduced motor control, trouble maintaining physical balance, and foot numbness.
Diabetes
One of the many symptoms of diabetes, a blood sugar disorder, included painful tingling sensations and numbness in the hands and feet.
Seizures
People who experience frequent seizures, such as epileptic seizures, may experience dizziness, prickly "pins and needles" sensations in their hands, feet, arms, legs, or numbness in the face.
Stroke
Stroke victims suffer loss of consciousness, speech slurs, disorientation, partial paralysis, numbness, and tingling on one side of the body.
Migraines
Migraines with aura produce stroke-like symptoms such as sudden "gibberish" talk, visual distortions, facial numbness, feebleness, and mental confusion.
Transient ischemic attack (TIA),
A transient ischemic attack, or "mini-stroke," may signal an oncoming stroke; symptoms include dizziness, mental confusion, balance problems, and numbness or tingling on one side of the body.
Lupus
One of the symptoms of lupus autoimmune disorder is Raynaud's phenomenon, which causes poor blood flow to your fingers and toes by constricting blood vessels.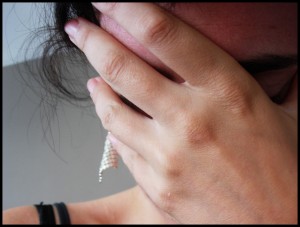 Toxic poisoning
Exposure to toxic amounts of alcohol, lead, radiation therapy, seafood toxins, or tobacco may cause neuropathic damage, including painful numbness in arms or legs.
Animal or insect bite
If you're bitten by an animal or insect (spider, tick), then you might experience symptoms such as prickly tingling and numbness in your fingers, toes, arms, or legs.
Read more about the symptoms of B12 deficiency:
Why do my Arms and Legs often Fall Asleep? B12 and Paresthesia
Tired of being Tired all the Time…It's Tiring!
Sources:
Tingling: Causes- Better Medicine
Numbness and tingling- Medline Plus Medical Encyclopedia
NINDS paresthesia information page- National Institute of Neurological Disorders and Stroke
What Is Atherosclerosis? NHLBI, NIH
Image credits, from top:
Dzz, clarita, lyns, chelle, grietgriet