For many celebs, gluten-free dieting is not just about Celiac.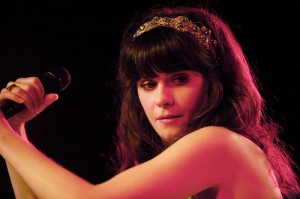 It's a light, gentler diet: that's what today's celebrities have to say about gluten-free dieting, a food plan which eliminates all products which contain gluten, a protein which occurs naturally in wheat, rye and barley.
The gluten-free diet evolved as a treatment for celiac disease, a gastrointestinal disorder that affects 1 in 133 US citizens. It seems that today's hottest entertainment A-listers have gluten intolerance; celebrities such as indie-star Zooey Deschanel and The View's Elisabeth Hasselbeck have gone off gluten-rich breads, pastries and pasta in lieu of gluten-free specialty goods.
So, where do the rich and famous go to indulge in celiac-friendly treats? To BabyCakes, which has branches in Los Angeles, New York and Orlando, and specializes in baked goods that are free of refined sugar, gluten, casein, soy, wheat and animal products such as eggs and milk.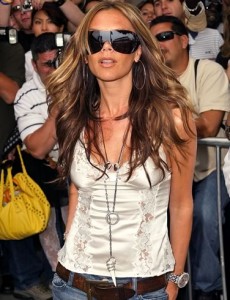 Here are 15 celebrities who have shared their experiences about gluten-free dieting:
1) Zooey Deschanel once guested on Bravo's Top Chef Masters, demanding that contestants concoct a vegan gourmet meal for her that was also gluten-free and soy-free. Zooey has since given up the vegan lifestyle, but remains true to gluten-free living, given that she is allergic to the wheat protein.
2) Comedienne Jenny McCarthy believes that her son, Evan, developed autism from a rubella vaccine. She attributes his current well-being and decreased symptoms of autism to a gluten-free diet.  "We believe what helped Evan recover was starting a gluten-free, casein-free diet, vitamin supplementation, detox of metals, and antifungals for yeast overgrowth that plagued his intestines," said the outspoken activist to CNN.com.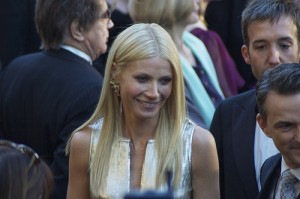 3) Gwyneth Paltrow published her favorite gluten-free recipes on her website, Goop.com.  Although she is not a sufferer of celiac disease or gluten allergy, Gwyneth claims that cutting gluten out of her life has helped her maintain a healthy weight.
4) The View's Elisabeth Hasselbeck spoke about her celiac disease and commitment to gluten-free living on Good Morning America, where she also pitched her cookbook, The G-Free Diet. When asked about her adjustment to what many consider a restrictive diet, she answered,  "You're not deprived… You're more energized."
5) Jennifer Aniston owes her slim waistline to the "Baby-Food Diet," the short-lived weight-loss plan consisting of small jars of pureed, gluten-free vegetables and fruits.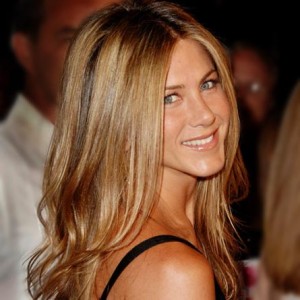 6) Keith Olbermann, host of Countdown, chose a gluten-free diet after being diagnosed with celiac disease.
7) Victoria Beckham is allergic to dairy, but also harbors a secret addiction to gluten-free chocolate cookies.
8) Rachel Weisz, star of 2010's The Whistleblower eschews gluten because of her wheat intolerance.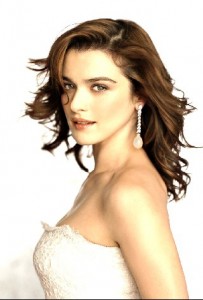 9) Dana Delany of television's Body of Proof declared that since she quit eating gluten products, she feels less "bloated and sluggish." The former Desperate Housewives star, who was diagnosed as gluten-intolerant, told Prevention that she also skips meat, opting instead for fish, tofu and veggies.
10) Juliette Lewis has not come out of the closet as a celiac or gluten-intolerant patient, but it has been rumored that the upcoming Foreverland star favors non-glutinous noshes.
11) Chelsea Clinton's gluten-free wedding cake was the talk of the town. Her 2010 New York wedding menu featured vegan gourmet main meals, gluten-free side dishes and grass-fed organic beef for the non-vegan guests.  Her father, former president Bill Clinton, has also had his flings with gluten-free treats.
12) Not to be outdone by Chelsea, Madonna served gluten-free brownies at her 52nd birthday bash.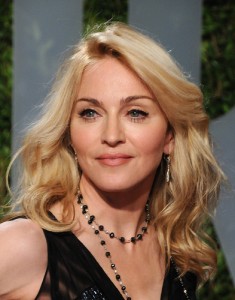 13) Discovering he has a gluten protein allergy has been the best thing to happen to tennis star Novak Djokovic. Since swearing off pizza, pretzels and beer, the celebrated athlete has ruled the court.
14) Jennifer Esposito, multi-talented actress and star of TV's Spin City and Samantha Who? has never felt better since she was informed she had celiac disease and proceeded to cut the gluten out of her diet.
15) Terence Stamp, who played Chancellor Valorum in Star Wars: Episode I, also joins the ranks of celebrities who have sworn off gluten products.
Read more about gluten-free dieting:
Celiac Disease and Vitamin B12 Deficiency
6 Great Diets for Autistic Children
Can a Gluten-Free Diet Ease Symptoms of Fibromyalgia?
Resources: