Gift-shopping for a friend or relative with fibromyalgia or chronic fatigue (ME/CFS) can be challenging, but it's also a great opportunity to show them how much you care. If you know somebody who suffers from daily exhaustion, chills, and pain all over the body, then they're sure to appreciate some of the holiday gifts and stocking stuffers listed here.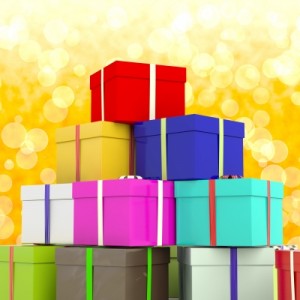 Here are 20 gifts for people who experience chronic pain and fatigue- these would be well received any time of year!
Month supply of the B12 Patch– vitamin B12 deficiency anemia causes weakness, tiredness, memory loss, brain fog, and depression. Vitamin B12 helps boost energy and maintain healthy neurological functioning in people suffering from fibromyalgia and chronic fatigue.
Weighted electric blanket, excellent for soothing sore joint and muscles and chasing the chills away.
Heated mattress pad– like sleeping on a warm bed of cushions!
Body pillow by Leachco- this is excellent for side-sleepers or anybody who has trouble getting comfortable in bed because of aching muscles and backaches.
Roomba– because who has the time- or energy- to clean?
Fuzzy sleepwear (pajamas, robe and slippers) by Dearfoams
Maid service; this would make a thoughtful community gift for a special someone who struggles with chronic pain, such as rheumatoid arthritis, fibromyalgia, or diabetic neuropathy.
Care package packed with sweet treats, dried fruit, teas, and mug; if you don't know somebody's personal taste, then put together a basket of gift teas, candies, nuts, or coffee.
Gift card for book store, iTunes or favorite coffee shop.
Yoga DVD for beginners, because gentle exercises are therapeutic for people suffering from fibromyalgia and other forms of chronic pain.
Foot spa by HoMedics- soothing bubbles and heat massage the pain away. Toss in a pumice stone as well.
Backnobber– easily massage hard-to-reach pain spots on the back, neck, and shoulders with this S-shaped acupressure tool.
Compression Gloves provide comfort when arthritis or fibromyalgia pain strikes. Helps to keep your hands warm, increases circulation and promotes healing
Soothing sound machine– great for people who have difficulty getting to sleep or suffer from tinnitus ear ringing
Massage oil, scented with lavender or peppermint; or, if somebody you know suffers from migraines or extreme fragrance sensitivity, then choose something fragrance-free.
Hot/cold pad, like this one from Smart Temp.
Hand warmers by HotHands- 40 pairs!
Spa certificate- good for a relaxing massage, salt rub, or facial at a local health spa.
Sleep mask with earplugs, by Dream Essentials.
Under eye concealer, like Bye Bye Under Eye Full Coverage Waterproof Concealer; brighten your face by removing dark under-eye circles.
Do you cope with fibromyalgia, chronic fatigue, or B12 deficiency? Can you think of any other great gift items that you would love to get this year?
Image courtesy of Stuart Miles