Searching for that perfect heating pad or warming gel to help ease chronic pain from fibromyalgia? Look no further! Listed here are some of the best, highest-rated and reviewed pain management tools, as featured on Amazon.com, including therapeutic lotions, hot and cold pads, and massage implements, all designed to fill your days with maximum comfort and relief from fibromyalgia.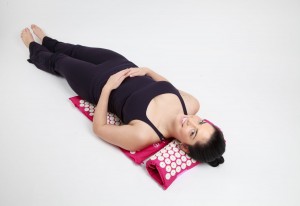 Spoonk Mat, as endorsed by Dr. Oz and Oprah!
What is this? Similar to a bed of nails, this acupressure massage pad is great for fibromyalgia patients experiencing chronic back pain, poor circulation, and joint stiffness.  According to the manufacture, the Spoonk mat has 6200 stimulation points, excellent for relieving those sensitive "hot spots" in people suffering from fibromyalgia, chronic fatigue syndrome (CFS) or other forms of chronic pain.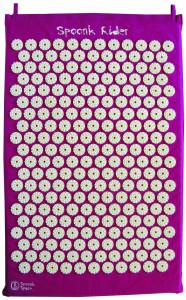 Use it for: Relaxation, increased energy, fibromyalgia pain management, improved sleep, and circulation. Order it here!
The Original Backnobber II, the Pressure Positive Company
What is this? This is a hard plastic massage tool with a knob on each end that is excellent for applying trigger point therapy in chronic pain management.  The S-shape makes it easy to rub out those hard-to-reach knots in your upper shoulder and lower back muscles.  It dismantles easily, so you can take this on the road.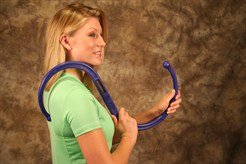 Use it for: Isolating fibromyalgia pain points, relieving knots or lumps, alleviating muscle fatigue, and applying do-it-yourself allover massage therapy. Order it here!
Herbal Concepts Comfort Neck and Shoulder Wrap
What is it? This is a soothing wrap that you can warm up in the microwave for heat therapy. This is a great product- it's reasonably priced, extends from your shoulders all the way up through your neck, and emits a pleasing minty-floral scent that calms the nerves.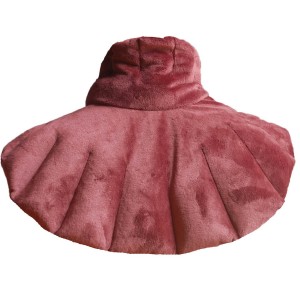 Use it for: Back pain, shoulder stiffness, headaches, and stress relief. Order it here!
Sombra Warm Therapy Natural Pain Relieving Gel
What is it? This is a popular line of topical analgesics that would be an asset for anybody suffering from fibromyalgia, arthritis, and other types of chronic pain. This product contains Capsaicin, which is renowned for its natural pain-relieving qualities.  The fruity scent gives an energy boost, as well.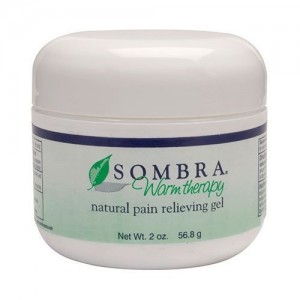 Use it for: Fibromyalgia pain points, diabetes nerve pain, migraines, flu aches and pains, burning feet, and joint stiffness Order it here!
Battle Creek Thermophore Automatic Arthritis Pad
What is it? "This is not your average heating pad," says one reviewer on Amazon.  This electric heating pad provides deep tissue pain relief, delivering up to 165 degrees of warmth to your aching muscles and joints.  Customers liked that it is weighted all around with small metal discs, providing even weight distribution, and enabling it to conform better to the shape of your body, so that it doesn't just slide off while you're lying down.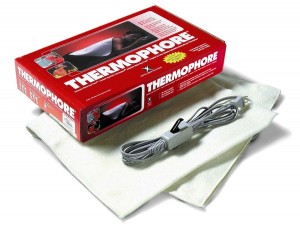 Use it for: Warming up your muscles for increased flexibility before stretching, relaxing in the evening, soothing fibromyalgia pain in the morning before you get up from bed, or just to sit more comfortably while watching TV or using the computer. Order it here!
Your turn!
What pain management tools do you use for fibromyalgia?
Do you have any questions or suggestions?  Please leave your comments below.
Share with your friends!
If you found this article helpful, then please share with your friends, family, and coworkers by email, Facebook, or Google+.