Healthy and delicious fruity milk shakes are packed with protein, fiber, vitamins, and antioxidants- these smoothies will keep your energy up all summer long…without the caffeine!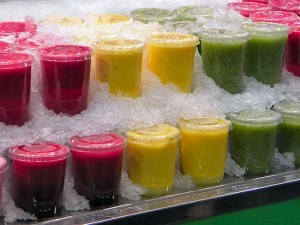 Nothing beats an ice-cold drink on a hot, lazy summer day.  Colas and "energy drinks" might temporarily give you that extra power boost you need in the middle of the afternoon, but that's only because they get their fuel from caffeine.
One 16-ounce can of SoBe's No Fear contains 141mg of caffeine; that's about as much as an 8-ounce cup of coffee, which can have anywhere between 100-150mg of caffeine.
So, what's wrong with a caffeine buzz?
Nothing, if it's an occasional cup of coffee.  But if you're banking on a can of Diet Coke or a tall Frappuccino to get you through your morning workload or afternoon gym class on a regular basis, then you should consider the health risks involved.
Caffeine and your health
Besides guaranteeing a "caffeine crash" a few hours later, which defeats the whole purpose of drinking an energy drink, excess caffeine intake causes the following side effects:
Trouble sleeping
Mood swings
Heart problems
High blood pressure
Withdrawal symptoms
Nutritious, energy drinks just make more sense
Why risk all the ill effects of caffeine addiction, when you can get a vitamin-packed power boost from heart-healthy ingredients that your body loves?
Whip up a high-energy smoothie for a quick, refreshing breakfast, snack, or frozen dessert. 
Dairy ingredients such as yogurt and low-fat milk provide protein and vitamin B12, for long-lasting energy and metabolic performance throughout your day. 
Individuals on special diets can substitute soy milk or soy ice cream for a vegetarian milk shake. 
Fresh fruits of the season deliver maximum vitamins and antioxidants.
Try some of these healthy, summertime smoothie recipes for yourself; listed below is one for each day of the week!
Sunday: Tea-Licious Smoothie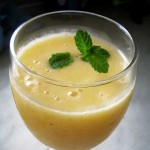 This frosty drink gets it vavavoom from peppermint tea, lemon sorbet, and vitamin C-rich citrus fruits.  It's an excellent alternative to caffeine-laden Southern sweet tea.
Monday: Apple à la Mode Smoothie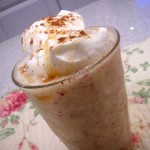 You'll start loving Mondays if you make this apple pie smoothie a part of your morning ritual.  The apple pectin provides high fiber, so you won't get hungry by the time 10:00 am rolls around.
Tuesday: Creamy Date Shake
Dates add natural sweetness and filling fiber to this low-fat milk shake.
Wednesday: Banana-Yogurt Smoothie
Martha Stewart recommends this naturally wholesome and delicious banana drink, which also contains flax seeds, honey, and plain yogurt.
Thursday: Watermelon Yogurt Mint Smoothie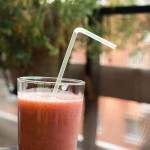 Are you ready to try something refreshingly different?  If you love crisp watermelon, then you'll flip for this cooling summer treat, made with fresh watermelon, mint leaves, honey, and lemon yogurt.
Friday: Pumpkin Pie Green Smoothie Recipe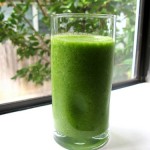 You don't have to wait until October to enjoy antioxidant-rich pumpkin pie! Just crack open a can of pumpkin puree, and add banana and almond milk.  This recipe also contains two cups of baby spinach, but you can substitute your favorite leafy greens.
Saturday: Avocado-Pear Smoothie
Avocado and silken tofu add a smooth, creamy texture to this protein drink, and pear juice and honey give it a naturally sweet taste.
Other great healthy recipes:
10 Most Tempting Vegan Ice Cream Recipes
Crohn's Disease Suggested Dinner Menu, plus Recipes
8 Rockin' Meatless Grill Recipes for Memorial's Day
Ten Ultimate Super Bowl Snacks That Are High in Vitamin B12
Sources:
Too much caffeine – Caffeine crash – TheSite.org
Caffeine Fuels Most Energy Drinks