Fresh BBQ Recipes- Desserts, Too!
There's no need to stick to the boring, tried and true grilled veggies this Memorial Day weekend. Here are some delicious, healthy vegetarian recipes that will rock your weekend and amaze your friends! Try these quick and easy dinner recipes tonight.
6 Must-Eat Foods for Die-Hard Vegans
If you haven't tried grilled pizza before, now is the time to start. You can buy pizza dough at most supermarkets. Feeling adventurous? Knead your own pizza bread dough to your liking. If buying frozen, take your ready-made pizza dough out of the freezer about 20 minutes beforehand, to allow time to rise. Now, oil the grill, slap your pizza pie on there, and when it looks like it's almost browned, spread sauce, cheese and favorite toppings.
Grilled heart of palm has a wonderfully mild, nutty flavor that adapts well to most seasonings. Hearts of palm is easy to find in most supermarkets. Canned varieties come whole or chopped up; remember to get the whole stalks. Marinate with your favorite spices, some oil and a pinch of salt. Grill for a few minutes on each side. Excellent with yogurt on the side.
Whoever discovered that grilled lettuce could be this yummy deserves a medal. You can try this with romaine lettuce, or experiment with mustard greens or kale. Oil the grill and cook on low for a few minutes per side. Word to the wise: Don't use bagged or tossed lettuce! Only use whole, crisp heads. The charcoal imparts a wonderful, smoky flavor and aroma.
Green tomatoes don't have to be fried. Try barbecuing them for a delicious main meal! Season thick tomato slices with salt, followed by a brush of oil. Grill on medium heat for 3 minutes per side. Next, lightly grill Focaccia slices. Assemble with favorite sandwich fillings.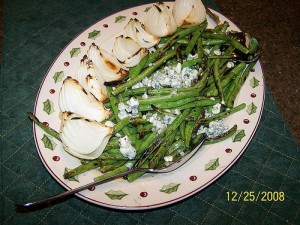 5) Rosemary Green Beans in Foil
No need to buy a grill pan for this one. Using two squares of heavy-duty foil, fill center with 2 cups of fresh green beans, 1/3 cup of butter, a few teaspoons of chopped onions and celery, one small sprig of rosemary, 1/2 teaspoon of basil and garlic powder to taste. Wrap it up carefully and place on the grill, seams facing upwards, for about 1/2 hour on medium heat.
You'll want to eat this with a spoon, but save some for guacamole dip. Better yet, toss some grilled avocado with your barbecued hearts of palm for a tantalizing appetizer. Take a firm, ripe avocado. Cut in half. Season with salt and pepper. Brush with oil and lemon juice. Place on grill, cut side down. Cook for 1 minute, or until soft to touch.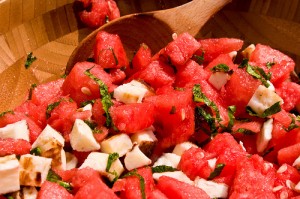 7) Grilled Fruit Salad
What! Yes, you heard right. Try cooking up some juicy grilled watermelon: Slice some thick slabs of pink or yellow watermelon. Brush with olive oil. Grill directly on clean surface for 2-3 minutes. Allow to cool. Cut into chunks and toss with a sweet, balsamic vinegar dressing of your choice. Great topped with feta cheese!
You can have your cake, and grill it too! Here's a recipe for gourmet grilled peaches 'n cake: Get your grill good and hot, then turn down to medium. On the stove, melt 5 tablespoons of butter. Whisk 2 tablespoons of sugar into 1 cup of crème fraîche.  Take 3 ripe, firm peaches and cut them in half. Take 6 thick slices of pound cake. Brush each side of cake slices and cut half of peaches with melted butter. Grill peaches for 2 minutes, uncovered, until brown. Toast cake slices on grill for about 1 minute per side. Slice grilled peaches, and place a few pieces on top of cake, topped with crème fraîche. Bon appetit!
More good reads:
On Becoming Vegan: Avoiding Vitamin B12 Deficiency and Others
Oprah Pledges 7 Days to Vegan Challenge
Fast Food Felonies, Part I: the Anatomy of a Chicken Nugget
Sources:
http://www.finecooking.com/recipes/grilled-peaches-pound-cake-creme-fraiche.aspx
http://www.finecooking.com/recipes/grilled-watermelon-salad.aspx
http://www.joyofbaking.com/CremeFraiche.html
http://powerpeoria.com/unusual-foods-to-cook-on-the-grill-jasons-top-5/
http://chowhound.chow.com/topics/347137
http://www.huffingtonpost.com/the-daily-meal/unlikely-grill-foods_b_867464.html#s284195&title=Pizza
http://www.thedailymeal.com/grilled-hearts-palm
http://www.delish.com/recipefinder/grilled-green-tomato-focaccia-sandwiches–2277