Are you planning a road trip this summer?  If you or any of your travel mates are on a celiac disease restrictive diet, it's important to pack plenty of healthy travel snacks for the ride that are gluten-free.  There are oodles of delicious, low-cost natural and packaged food items that appeal to even the finickiest of children with celiac disease. Assemble your own gluten-free snack pack from home, so you'll always be prepared.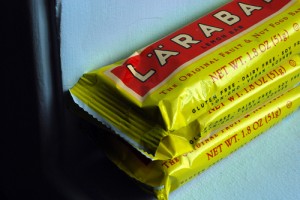 Here are some great snack travel tips for adults and kids with celiac disease or gluten intolerance:
Gluten-Free Snack Kit:
Larabar brand snack bars are completely gluten-free: not only do they contain 100% gluten-free diet ingredients, but also their manufacturing plant is a gluten-free facility, so there's no danger of gluten cross-contamination.  With over one dozen flavors, such as Ginger Snap, Cherry Pie, and their new Chocolate Chip Cookie Dough, you'll never get bored!
Udi's Gluten Free Foods makes the hands-down, best-tasting non-gluten bagels and sliced bread on the planet.  Choose from a variety of breads, bagels, pizza crusts, muffins, and granola cereals.
Justin's Natural Chocolate Peanut Butter Squeeze Packs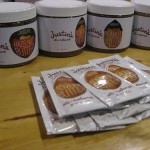 Slip a few packets of Justin's gourmet peanut butter packets in your travel bag or purse; it's so much tastier than plain butter on your gluten-free toast, and it packs a protein punch.  Justin's Products are gluten-free, organic, and delicious.  Their nut butters come in peanut, almond, and hazelnut; flavors include Chocolate, Maple, Honey, and Classic.  They taste excellent paired with Mary's Gone Crackers Original flavor vegan, gluten-free, dairy-free crackers.
Glutino's Family Bag Pretzels – Sticks
If you're hankering for a quick crunch, then Glutino's Gluten-Free Pretzels fit the bill.  Get the giant family bag, so everyone can enjoy the wheat-free, gluten-free, casein-free goodness.  Glutino's offers a wide selection of frozen meals, baking mixes, bakery items, and snack foods that are all catered to the celiac disease restrictive diet.
Some cheap staples from home include GF microwave popcorn, fresh fruit, water bottles (labeled with permanent marker), boxed soymilk, and GF Rice Krispies.
Also, check out Gluten-Free Mommy's 30 snack ideas for a list of other yummy celiac-friendly munchies.
Gluten-Free Friendly Markets:
A number of popular supermarkets offer a wide selection of frozen meals, mixes, bakery items, and snacks that are safe for individuals on restrictive diets.  Many of the items mentioned appear on their health food aisle.  Alternatively, health food grocery chains such as Whole Foods Market and Trader Joe's sell competitively priced organic, wheat-free, casein-free, and gluten-free snack foods, and have branches in all 50 states.  Before you hit the road, check to see if they have any branches in or around your vacation destination, in case you need to replenish your food supplies
Necessary Equipment and Supplies:
Here are just a few no-brainer supplies you should always remember to pack:
From Celinal Foods: you'll wonder how you ever got along without this.  Now you can have your gluten-free bread, and toast it, too!  If you're a celiac disease patient on a restrictive diet, you won't have to worry anymore about gluten cross-contamination while traveling, as long as you keep a few of these toaster bags handy.  Just slip a slice of bread into the insulated pouch, pop it into the toaster, and voila!  Your toast stays nice and warm, and any preexistent glutinous breadcrumbs stay out.  You can also make grilled cheese sandwiches, tuna melts, toasted bagels…whatever you're in the mood for.  The reusable nonstick Toast-it bag is safe to use in all toasters, toaster ovens, and countertop (grill) sandwich makers.
Ziploc On-the-Go Food Storage Products
You name it, they've thought of it.  Ziplocs bags and food containers come in lots of different sizes, for packing leftovers, mini-bites, frozen grapes, or whole meals.
Breakdowns happen.  If you're going on a long road trip with the family, it's a good idea to prepare for the worst, and hope it doesn't happen.  Going camping?  Even more reason to invest in a Coleman portable stove, such as their All-In-One Cooking System for $149.99.
Celiac Summer, Part 1:Plan a Fun and Gluten-Free Disney Vacation
15 Gluten-Free Glitterati, from Aniston to Zooey
Sources:
Gluten Free Information on Celiac Disease and Gluten
How to Stay Gluten-free at a Ritz Carlton or other Resort Hotel