Are constant eyelid twitching and eye spasms driving you batty?  Myokymia might be a sign of pernicious anemia caused by low vitamin B12 levels.  Learn how to stop eye twitching by halting vitamin B12 deficiency in its tracks.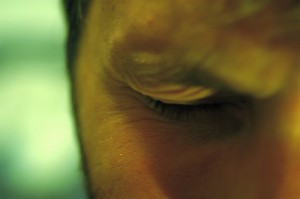 What is myokymia?
Myokymia is a disorder that causes muscles in your body to twitch involuntarily.  Myokymia twitches can affect any groups of nerves or muscles in your body, including your arms, legs, fingers, and back. 
It can also occur on your face- hemifacial spasms are muscular twitches that begin on one side of your face, usually the eye.  Over time, hemifacial spasms can expand to include the rest of your face, on one side.
Balance your B12, Balance your Nerves
Why is my eye twitching?
Myokymia is a type of nerve damage called trigeminal neuralgia.  When your eyelid keeps twitching out of control, it is because the nerves that control the opening and closing of your eyes have been damaged. Eye twitches can occur in either the lower eyelid or upper eyelid,
Causes of myokymia
Causes of eye twitching may include stress, excessive alcohol usage, and staring at a computer screen for long periods of time.  Eye spasms can also be a reaction to caffeine, or may signify low levels of cobalamin– vitamin B12.
B12 deficiency symptoms
Vitamin B12 benefits include red blood cell production, protection of the nervous system's myelin sheathe, cognitive functioning, DNA synthesis, and lowered homocysteine levels.
If your body does not store adequate amounts of vitamin B12, you may get B12 deficiency, and ultimately severe pernicious anemia, a type of megaloblastic anemia blood disease.
B12 deficiency causes emotional and cognitive disorders such as:
Chronic fatigue
Memory loss
Decreased mental focus
Anxiety
Depression
Paranoia
Aggressiveness
Hallucinations
Top Ten Signs of a Vitamin B12 Deficiency
Pernicious anemia symptoms include severe nerve damage, such as eyelid spasms caused by myokymia.  Lower eyelid twitches are most common with vitamin B12 deficiency patients.  
Other symptoms of nerve damage caused by pernicious anemia include:
Numbness and painful tingling in the hands and feet
Arms or legs constantly "falling asleep"
Prickly feeling in the tongue
Altered taste perception
Sore or swollen tongue
Why do my Arms and Legs often Fall Asleep? B12 and Paresthesia
Stop eye twitching
If you suspect that you have vitamin B12 deficiency, then consult your physician and request a blood test for B12 levels. If diagnosed with low B12, then your doctor will prescribe vitamin B12 supplements. 
If you have pernicious anemia, then you might have to get routine B12 shots indefinitely. Once you start taking vitamin B12, you will notice a decrease in pernicious anemia symptoms immediately, and total reversal of symptoms by the time your B12 levels return to normal.
Multiple Sclerosis and Vitamin B12 Deficiency
Sources:
Hemifacial Spasm Information Page: National Institute of Neurological Disorders and Stroke (NINDS)
Myokymia – Types, Symptoms, Causes and Treatment
Image credits, from top: