Managing symptoms of memory loss can be overwhelming; fortunately, iTunes offers many health apps for the iPad that help, whether you suffer from memory loss caused by vitamin B12 deficiency, Alzheimer's disease, or chronic pain comorbidities.
With its easy-to-use touch-screen features, the iPad has become one of the most fundamental tools for daily life management. This is especially true in the medical world, as patients can easily access information about illnesses, health information, and updated medical treatments.
If you suffer from frequent memory loss, then you can take advantage of many iTunes apps that can remind you to take your vitamins and medications, schedule a doctor's visit, or keep track of important dates.
If memory loss is caused by vitamin B12 deficiency, then it helps to understand more about neurological symptoms that are associated with low vitamin B12 levels, or the positive effect that vitamin B12 supplementation has on Alzheimer's disease.
Other iTunes apps that may help include brain games that enhance cognitive functioning skills, or e-book readers such as Kindle that are compatible with the iPad.
See the bottom of the page for our iPad 2 Giveaway!
Listed below are 10 iPad apps that benefit people with mild or severe memory loss:
1- Alzheimer's Memory Pal by Linda Paulus- FREE
Designed by the daughter of an Alzheimer's disease patient, the Alzheimer's Memory Pal helps improve facial recognition and memory skills by using a "family tree" containing images of family, friends, and caregivers that you upload yourself.
2- Common Deficiencies, Symptoms & Remedies by Rebecca Indla- $0.99
Learn about common symptoms of vitamin B12 deficiency, and other vitamin deficiencies, some of which may include brain fog, disorientation, or memory loss.
3- GenieMD by GenieMD, LLC- FREE
Keep track of your medications on your iPad. Receive custom reminders to take vitamin B12 supplements, track blood pressure, and get updated warnings about important drug interactions.
4- Kindle for iPad by AMZN Mobile LLC- FREE
Optimized for iTunes, e-book apps like Kindle or Nook are easy to use, and enhance the reading experience by mimicking "page-turning" and letting you choose font and color. You'll never need to worry about losing your bookmark or keeping track of a large library. The Kindle app syncs with other hand-held devices.
5- Evernote by Evernote- FREE
One of the most important lessons in managing memory loss is to remember to always write it down! Consider the Evernote iPad app your home base for all important data. Store pictures, record voice memos, schedule your itinerary, make to-do lists, and jot down notes on-the-go.
6- 3D Brain by Cold Spring Harbor Laboratory- FREE
Learn about the brain, including disorders that may be the cause of memory loss. Find out about ways that chronic illness, concussions, pernicious anemia, or neurological diseases can make you feel fatigued, restless, depressed, or forgetful.
7- Neurology Now® by Wolters Kluwer Health Lippincott Williams & Wilkins- FREE
The Neurology Now magazine gives you the latest updates in treatments and research for neurological disorders such as peripheral neuropathy, Alzheimer's disease, and multiple sclerosis.
8- Pill Monitor Free Medication Reminders and Logs by Maxwell Software- FREE
Another helpful app designed specifically for keeping track of medications, vitamins, and minerals, especially when memory loss is an issue.
9- Chain Of Thought, the free association word chain game by Jay Bacal- FREE
Sharpen your memory skills by playing this free association word game.
10- Secret Password Keeper by Universal Studio- $0.99
You'll never forget your password when you use this clever app, which allows you to create a screen lock based on various themes, such as fingerprint scan, voice security, or traditional unlock.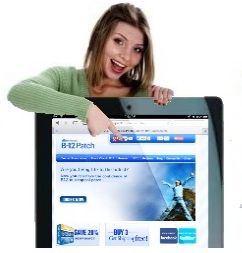 Enter to win a free iPad!
Through February 10, 2013, enter the B12 Patch  iPad 2 Giveaway! Locate the "Vote and Win" tab at the top left-hand corner of our blog page, or submit your entry at the B12 Patch Facebook iPad Giveaway page.
Image(s) courtesy of stockimages/FreeDigitalPhotos.net
Free Sweepstakes
Online Sweepstakes
As seen on Hypersweep.com!