To keep providing energy, strength, and mental focus when fibromyalgia relapses occur, you need to nourish your body with many essential nutrients, including vitamin B12. Taking vitamin B12 supplements is a crucial part of any fibromyalgia management regimen, but it's important to also get plenty of vitamins from the foods you eat.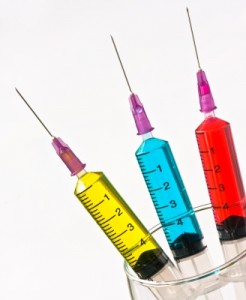 To manage fibromyalgia symptoms such as brain fog, vitamin B12 deficiency, muscle aches, and chronic fatigue, it's important to make sure you're getting enough vitamin B12, and sustaining normal levels of vitamin B12 in your blood supply.
Also read Vitamin B12 for Fibromyalgia- Food Sources!
Vitamin B12 malabsorption
Vitamin B12 malabsorption is common in people with fibromyalgia, because of gastrointestinal disorders that prevent you from digesting proper amounts vitamin B12 from the foods you eat.
To maintain healthy vitamin B12 levels, you would need to take about 1,000mcg of vitamin B12 weekly, the amount of vitamin B12 included in a typical vitamin B12 shot or other non-dietary B12 supplement.
Comparatively speaking, that's about 11 servings of cooked clams each week, just to prevent developing severe pernicious anemia.
To avoid symptoms of vitamin B12 deficiency anemia that mimic fibromyalgia- fatigue, dizziness, anxiety, depression, and muscle pain- you would have to consume many times more than the suggested dosage of vitamin B12 from foods such as clams, crabs, oysters, and other types of seafood.
How much B12 do you need?
There's no upper limit set for vitamin B12 supplementation- any amount you decide to take is completely safe and cannot cause any side effects, according to FDA guidelines.
Generally, in the case of vitamin B12 malabsorption with fibromyalgia, the more vitamin B12 you take, the better off you are. There doesn't seem to be any amount of vitamin B12 that is "too much."
More often, the amount of vitamin B12 you get from prescription supplements such as vitamin B12 shots are often not enough to relieve symptoms of vitamin B12 deficiency, such as constant tiredness, difficulty concentrating, memory loss, or painful tingling and numbness in the hands and feet.
To get the most vitamin B12, it's important to eat plenty of foods rich in vitamin B12, in addition to also maintaining a routine of vitamin B12 supplementation, adjusting the regimen until you find the right amount of vitamin B12 to prevent symptoms.
Your turn!
Do you have any questions or suggestions?  Please leave your comments below.
Share with your friends!
If you found this article helpful, then please share with your friends, family, and coworkers by email, twitter, or Facebook.
Like this? Read more:
What Causes Vitamin B12 Malabsorption?
Shocking Must-See Video on Vitamin B12 Deficiency Crisis
Can Vitamin B12 Repair Nerve Cells?
Image courtesy of Piyachok Thawornmat/freedigitalphotos/