Summer's just around the corner- if you're an ice cream lover on a vegan diet, then you'll love these milk-free homemade ice cream recipes.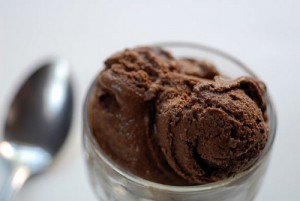 We've included a collection of vitamin-rich soy ice creams, a creamy coconut milk concoction, and many which incorporate almond milk for smoothness. Feeling adventurous? Taste test #10: the avocado ice cream finale.
1) Low Calorie Vegan Chocolate Sorbet Recipe
What better way to kick off our non-dairy ice cream dream team than with a rich, chocolate sorbet? You won't need a lot of ingredients for this one- just the basics: sugar, water, cocoa, salt and vanilla.  Just reach into your pantry, and in 4 hours you can have a decadent guilt-free chocolate dessert.
2) Dairy-free Vanilla Ice Cream
The only machinery you'll need in order to achieve a thick, creamy consistency is a blender ; a stick-blender can be substituted in a pinch. Vanilla ice cream is a versatile dessert that complements most cake recipes, toppings and fruit compotes. Mix it into your post-workout protein shake for a  satisfying treat.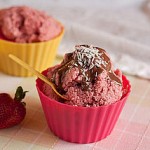 3) Strawberry coconut milk ice cream
Rich coconut milk ice cream is a flavorful alternative to dairy desserts, and 100% natural. This recipe combines fresh strawberries, coconut decadence and a fudge ripple sauce.
These refreshing non-dairy creamsicles are gluten-free, sugarless, low fat and all-organic, but we won't tell anybody if you don't. Flavored with bananas, fresh berries and organic soy yogurt, they're a much healthier choice for diabetics.
5) Triple Almond Vegan Ice Cream
Hey, almond lovers, here's a three-fer for you: three recipes on one site, all of them scrumptious and made with almond milk. Headlining is a recipe for Rich Chocolate and Banana Almond Milk Ice Cream, followed by Triple Almond Vegan Ice Cream, which is made with almond butter, almond liqueur and chopped almonds; last, but not least, is Strawberry Almond Milk Ice Cream. Combine all three and you've got a vegan Napoleon.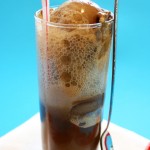 If you like root beer floats (and who doesn't?), then you'll flip for this non-dairy version of the classic all-American treat. Smooth vanilla bean soy milk, a can of root beer, some root beer extract, arrowroot and sugar are all you'll need to put this together in a flash.
Two ingredients; that's all you'll need to whip up this amazingly creamy and delicious frozen dessert. Two ingredients, and they are: frozen bananas, water. No kidding. What's the catch? It doesn't keep well, so you'll have to eat it all and right away. But that shouldn't take too much convincing.
8) Mint Chocolate Chip Ice Cream
This recipe incorporates non-dairy Rich's whipping cream, which can be found at most markets which sell vegan or "parve" food items. If you crave chocolate mints after dinner, then this one's for you. Remember to measure the peppermint extract carefully; half a teaspoon could make a world of a difference.
Ordering Chinese tonight? A scoop of green tea ice cream with a fortune cookie on the side is a great way to end a meal. This recipe owes its strong flavor to match green tea powder, which can be found at most health food stores.
Dare to be different. The avocado adds a subtle, buttery flavor to soy yogurt, lemon juice and almond milk. Experiment with different flavors of yogurt; the recipe featured here uses strawberry and peach.
Like this? You'll also like to read:
Can a Gluten-Free Diet Ease Symptoms of Fibromyalgia?
6 Must-Eat Foods for Die-Hard Vegans
On Becoming Vegan: Avoiding Vitamin B12 Deficiency and Others
8 Rockin' Meatless Grill Recipes for Memorial's Day
Sources:
http://vegetarian.about.com/od/desertrecipes/r/chocolatesorbet.htm
http://dairyfreecooking.about.com/od/dessertsbeverages/r/vanillaicecream.htm
http://healthy-recipe-group.fitsugar.com/Sweet-Strawberry-Ice-Cream-Chocolate-Sauce-15658248
http://www.fitsugar.com/Raspberry-Yogurt-Popsicles-Recipe-8960299
http://blogs.kqed.org/bayareabites/2011/04/28/vegan-almond-milk-ice-cream-3-recipes/
http://bittersweetblog.wordpress.com/2009/06/13/how-now-brown-cow/
http://www.dailyunadventuresincooking.com/recipe/raw-banana-ice-cream-recipe/
http://kosherfood.about.com/od/kosherfrozendesserts/r/Mint-Chocolate-Chip-Ice-Cream-Parve.htm
http://veganalects.wordpress.com/2008/07/20/green-tea-ice-cream/
http://www.fitsugar.com/Vegan-Avocado-Frozen-Yogurt-14662947