As reported by Us Magazine, Pregnant Natalie Portman, Oscar winner for The Black Swan, has reportedly taken a leave of absence from her vegan ways; whether this change is permanent or just an extra precaution to deliver more vitamin B12 to her unborn baby remains to be seen.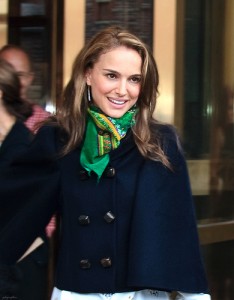 The 29-year-old actress, who is expecting a child with boyfriend Benjamin Millepied, has always been an outspoken advocate for the vegan lifestyle, which excludes such vitamin B12 sources such as eggs, meat, milk products and fish. Ms. Portman made the decision to become Vegan after reading Jonathan Safran Foer's Eating Animals in 2009, according to the Daily Mail.
Recent news, such as the death of an infant in France who was exclusively breast-fed by her vegan mother, has brought to light the health risks involved with vitamin B12 deficiency and anemia,  which are common risk factors of veganism.
Natalie, who called in on the Q100 Bert Show, admitted, "I know there are people who do stay vegan, but I think you have to just be careful; watch your iron levels and your B12 levels, and supplement those if there are things you might be low in in your diet."
Don't expect to see Natalie heading for the steak house just yet, though; the Star Wars actress is following more of a traditional vegetarian diet, including eggs and dairy products which are rich sources of vitamin B12.
The symptoms of vitamin B12 deficiency include:
Chronic fatigue;
Depression;
Feebleness;
Short term memory loss;
Aggression;
Irritability;
Numbness or tinging in hands and feet;
Change in taste perception;
Sleep disturbances;
"Brain fog"
Left untreated, vitamin B12 deficiency could result in pernicious anemia, neurological damage or in severe cases, death.
Also read:
Benefits and Sources of Vitamin B12, and How to Avoid Deficiency
Sources:
Us Magazine, Babble, New!, OMG! Yahoo, Daily Mail, Herald Sun