Treat IBD naturally and deliciously by including these anti-inflammatory fermented foods in your diet.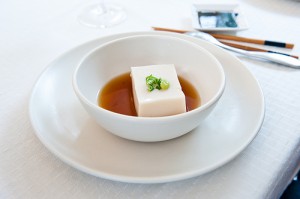 There's a war brewing in your tummy!
Whether you suffer from IBS (irritable bowel syndrome) or IBD (inflammatory bowel disease), such as Crohn's disease or ulcerative colitis, you know that the best way to treat your tummy right is by following a diet rich in probiotic foods.
Probiotics are live microorganisms that occur naturally in aged foods, such as pickles and yogurt.  Consider them your allies in fighting your body's war between good and evil! (bacteria-wise, that is.)
When it comes to promoting gastrointestinal integrity, the health benefits of probiotics are unrivaled.
Gut Bugs:Winning the Bacteria Battle
12 Great  probiotics
1- Yogurt
Yogurt is an old standby for people who understand the health benefits of probiotic foods, and for good reason.
Many brands of yogurt contain live cultures that keep your tummy calm and balanced, even after taking antibiotics.
Keep in mind that not all yogurts are alike- only the ones that are marked "active cultures" or "live cultures" on the label have potent probiotics.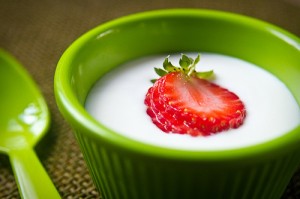 2- Kefir
Kefir is a popular European drink that contains a mixture of goat milk and fermented kefir grains.  In addition to antioxidants, kefir is also rich in lactobacilli and bifidus bacteria.
3- Buttermilk
Buttermilk is a nourishing drink that adds creaminess and rich flavor to Ranch salad dressings, pancakes, and cornbread.  It is also an excellent source of probiotic cultures.
Natural Treatments for the Symptoms of Crohn's Disease
4- Sour cream
Sour cream is a fermented condiment that contains healthy bacteria.  Use it sparingly, as it is high in fat.
5- Miso
Miso is a traditional Japanese condiment that consists of a fermented paste produced by soybeans, barley, or rice.  It adds a salty, smoky flavor to soups and sauces.
6- Tempeh
Tempeh is an excellent vegetarian source of vitamin B12.  Produced from fermented soybeans, tempeh is a meatier alternative to tofu and makes a satisfying centerpiece in vegan main meals.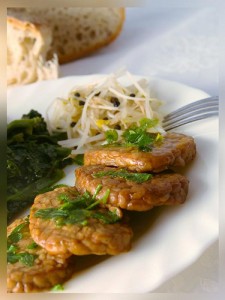 7- Natto
Natto is another soy product featured in Japanese cuisine, containing bacillus subtilis.  It has a pungent quality that true lovers of vegetarian cookery enjoy.

8- Sauerkraut
This fermented cabbage began its gastronomical career as a popular German condiment; today, hot dog enthusiasts all over the USA delight in topping their frankfurters with tangy sauerkraut.
The 20 Do's and Don'ts of the GERD Diet
9- Kimchi

Kimchi is a traditional Korean condiment made of assorted pickled vegetables.  Like sauerkraut, kimchi contains fermented cabbage, in addition to onions, carrots, and garlic.
Unlike sauerkraut, kimchi has a hot 'n spicy kick to it.

10- Kombucha tea
Kombucha tea, a health food staple that contains live cultures, is an ancient tonic that promotes healthy gut bacteria.

11- Pickles
Dill pickles, bread and butter pickles, or half-sours: any way you slice them, pickled cucumbers are a tasty, crunchy source of gut-friendly probiotics.

12- Unpasteurized olives
Naturally fermented, unpasteurized olives have a unique, full-bodied flavor that is lacking in traditionally bottled pasteurized olives.  Like all olives, they are equally beneficial for heart health.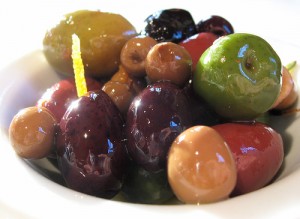 Related Reading:
Crohn's Disease Suggested Dinner Menu, plus Recipes
Ten Foods to avoid if you have Inflammatory Bowel Disorder
101 Helpful Sites for Kids 'n Teens with Crohn's (and their Parents)
On the Run with Crohn's? 6 Ways to Ease Public Restroom Anxiety
Sources:
Top 10 Probiotic Foods to Add to Your Diet
Top Probiotic Foods You Are Not Eating | The Conscious Life
The Best Probiotic Foods | LIVESTRONG.COM