March, 2011– In northern France, a vegan married couple faces trial after the death of their baby due to vitamin B12 deficiency; their daughter, who was exclusively breast fed even at the age of 11 months, became ill back in March of 2008 of vitamin deficiency.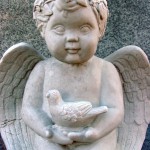 Now the couple may face charges of neglect for refusing to include animal products in her diet.
Sergine and Joel Le Moaligou called an ambulance when they noticed that their baby daughter Louise seemed pale, unfocused and drained of energy, but by the time the emergency team arrived their daughter was already dead.
Most 11-month-olds weight approximately 8 kg (17.6 lbs), but at the time of her death Louise weighed only 5.7 kg (12.5 lbs).
Police believe that vitamin B12 deficiency lowered the baby's resistance to infection and ultimately caused her to die of pneumonia.
Read Pregnant Moms and Low B12 Levels: Let 'em Eat Steak!
Vitamin B12 is only found in animal products such as lean red meat, fish, eggs and dairy foods.  B12 is essential for neurological development and production of red blood cells. The vegan diet specifically excludes all foods which are rich in vitamin B12, so a special effort must be made to include vitamin B12 supplements such as injections.
Symptoms of vitamin B12 deficiency include:
Fatigue, loss of energy
Irritability
Aggressiveness
Depression
Short-term memory loss
Altered taste perception
Numbness or tingling in hands and feet
"Brain fog," unclear thinking
Dizziness
Left untreated, vitamin B12 deficiency could lead to serious neurological damage or pernicious anemia.
While the infant Louise was fed milk, a rich source of vitamin B12, the fact that her vegan mother refused to eat animal products nor feed her animal products meant that she was deliberately neglected of this essential vitamin, say police.
The deputy prosecutor of the trial had this to say about the mother's involvement in the death of her child: "The problem with a vitamin B12 deficiency could be linked to the mother's eating habits."
In addition to shunning animal products, the Le Moaligou family also eschews traditional medicine in favor of home-made remedies found in their collection of self-help books.
At her 9-month checkup, Louise was already suffering some of the symptoms of B12 deficiency, in addition to bronchitis and rapid weight loss; her parents were advised to admit her into a hospital, but refused, opting instead for non-traditional medical practices such as applying cabbage leaves, mustard and camphor. Parents also preferred to wash their baby with dirt and clay in lieu of soap and water.
The French couple, who also has a 13-year-old daughter, may face 30 years if found guilty.
Sources: