Healthy Recipes for the Gluten Intolerant: This fall, cook up easy healthy gluten-free recipes for celiac disease, including warm, delicious wheat free bakery goods that are safe for gluten allergies.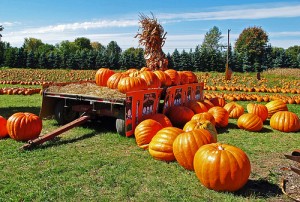 What are the symptoms of celiac disease?
Celiac disease, or gluten intolerance, is an autoimmune disease.  People with celiac disease have a strong, negative reaction to all foods containing gluten.  Celiac disease symptoms vary by patient; some people with celiac experience little or no symptoms, while some suffer from severe malabsorption or mineral and vitamin deficiencies, such as vitamin B12 deficiency.  Symptoms include stomach cramps, diarrhea, rapid weight loss, and bloating.
What foods contain gluten?
Gluten is a protein that acts as a binder in certain grains, including wheat, barley, rye, and spelt.  Safe grains for people with gluten intolerance or gluten allergies are rice, corn, amaranth, millet, quinoa, sorghum, and teff.
Six Gluten-Free Fall Recipes from Six Famous Food Blogs:
1) Pumpkin Pie
For many, the fall season doesn't officially begin until you take your first freshly baked pumpkin pie out of the oven.  This pumpkin pie recipe, from the Gluten-Free Easily, solves the question, "How do you make a pie crust without using flour?"  That's because this custard pie is crustless!  Enjoy all the smooth, rich creaminess, without the flaky, burnt crust that you weren't really going to enjoy, anyway.
2) Sweet Potato Cornbread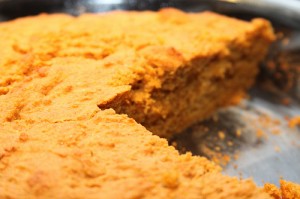 This cornbread recipe from Gluten-Free Goddess turns out a mile-high, crunchy loaf of cornbread.  The added sweet potato puree adds moisture, volume, and an air of festivity!
3) Gluten Free Carrot Muffins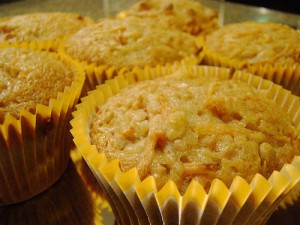 These bright, golden carrot muffins are healthy, delicious, and inexpensive to make.  Gluten Free Works uses organic ingredients, fresh grated carrot, and gluten-free flour mix to bake these light, airy muffins.
4) Multigrain Bread, Gluten-Free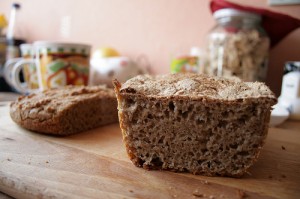 This Thanksgiving, serve up a loaf of warm, steamy home-baked bread in a snap, and stand back and take a bow.  Thanks to the Art of Gluten-Free Baking, you can have your multigrain bread, and eat it, too!  Taken from the Cooking Gluten-Free! Cookbook, this bread recipe takes only 45 minutes to rise!
5) Apple Crumble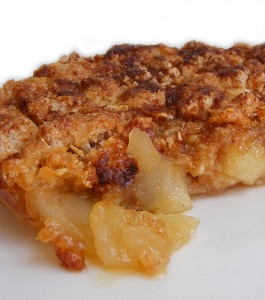 This healthy, gluten-free Apple Crumble recipe, featured in the New York Times Recipes for Health, incorporates quinoa and gluten-free certified oats in the topping.  Raw brown sugar adds a light, earthy sweet taste to this cinnamon 'n nutmeg spiced fall dessert.
6) Cinnabon-ish Cinnamon Rolls (Gluten-Free)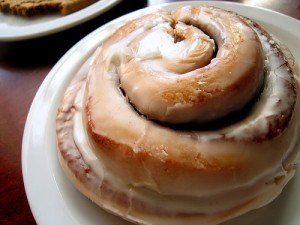 The magic in this Cinnabon Cinnamon Roll recipe is in the millet flour, or rice flour, if you prefer.  From Food.com, these doughy, pan buns pop out of the oven golden brown, and dripping with butter and syrupy goodness.  Resist the urge to gobble them all up before adding the cream cheese frosting!
Related reading:
15 Gluten-Free Glitterati, from Aniston to Zooey
Gluten-Free Bento Boxed Lunches for Celiac Dieting, Part 1
Gluten-Free Bento Boxed Lunches for Celiac Dieting, Part 2
Can a Gluten-Free Diet Ease Symptoms of Fibromyalgia?
Sources:
Celiac Disease Symptoms in Children and Adults
Seven Common Questions about Gluten and Grains
Images:
c3lsius_bb, FotoosVanRobin, ikeX, Vegan Feast Catering, Gudlyf, www.WorthTheWhisk.com, AcrylicArtist