Don't let celiac disease or other food allergies like lactose intolerance keep you from enjoying major league baseball.  Yummy gluten-free dietmenus for gluten intolerance are available at most ballparks. Find your favorite gluten-free beer, hot dogs with tapioca-rice hot dog buns, and more.  Before you sit down to enjoy the game, check out this gluten-free food list for baseball fans.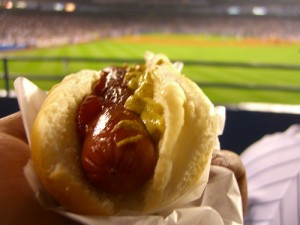 Major League Baseball gluten-free food list:
Gluten-Free Hot Dogs, Chicken, and Veggie Dogs
Minnesota Twins Big Dog
Chili Cheese Dog
Dugout Dog
Kinnikinnick Tapioca-Rice Hot Dog Buns
Bun-less Grilled chicken
Bun-less Hot Dog
Veggie Dogs
Veggie Kabobs
Pork Chop on a stick
Shrimp Skewers
Turkey Leg
Bull's BBQ food
Gluten-Free Side Dishes
Loaded Nachos
Crab Cakes
Asian Noodle Salad
Fresh Fruit
Carrots with Ranch Dressing
Gluten-Free Beer
Woodchuck Cider
Bard's Tale Gluten-Free Beer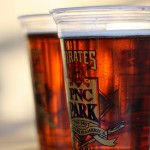 Gluten-Free Snack Foods
Cracker Jacks
Angie's Kettle Corn– gluten-free and nut-free
Carmel & Cheddar Popcorn Mix
Gluten-Free Nut snacks
Noah's Pretzels: Gluten-Free Pretzels
California Chips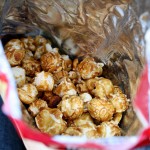 Gluten-Free Candy
Larabars
Classic Snacks Gummy Bears
Skittles
Gluten-Free Desserts
Fruichi Smoothies
Talenti Gelato
Kozy Shack gluten-free puddings and gel snacks
Lifeway Frozen Kefir–  gluten-free and 99% lactose-free
Gluten-free chocolate chip cookies and brownies
Word to the Wise
Before you purchase anything from a gluten-free hot dog stand, or other concession cart, make sure that the food they're offering really is celiac disease-friendly.
Only buy prepared food from vendors that are exclusively gluten-free, as opposed to simply offering a few menu items for people with gluten-intolerance among other non-elimination diet snacks.
Ask the food servers if they know what a celiac disease diet is, and the risk involved with gluten cross-contamination.
Packaged foods (gluten free chocolate chip cookies, potato chips) are okay, as long as you are the first person to open them.
Related reading:
Gluten-Free Candy List for Celiac Disease, October 2011
Gluten-Free Fall Food- 6 Easy Celiac-Friendly Recipes
15 Gluten-Free Glitterati, from Aniston to Zooey
Sources:
Take Me Out to the Gluten Free Ballpark 2011
ARAMARK's Gluten-Free Menus a Big Hit at Major League Ballparks
Find Gluten-Free Food at MLB Parks
Gluten Free Concessions at the Stadium- Can We Eat That?
Batter Up! Gluten-Free at the Ballpark
Calling for gluten free options at Metro Bank ballpark