Is there any connection between lupus and vitamin B12 deficiency? That's a question asked often both by people with low B12 and diagnosed systemic lupus erythematosus (SLE). Both autoimmune diseases share similar symptoms, and it's important to know how to tell the difference.

Cruising for a Bruising? Choose Vitamin B12 Shots or Anemia
What is lupus?
Lupus, or systemic lupus erythematosus (SLE), is an autoimmune disease that can cause damage to your muscles, bones, organs, and skin tissue.  Like other autoimmune disorders, lupus causes your body's immune system to attack healthy cells tissue, causing swelling, inflammation, and pain.  Damage to your system may include kidney damage, heart attack, lung damage, joint pain, and blood diseases such as anemia (more on this later).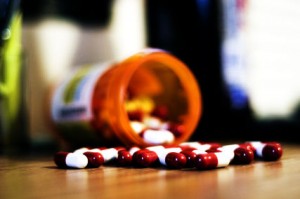 100 Best Sites for Fibromyalgia or Chronic Fatigue Information
Symptoms of B12 deficiency
Vitamin B12 deficiency is one of the most common deficiencies in the US. Even if you eat plenty of sources rich in vitamin B12 (meat, chicken, fish, eggs, and milk), your B12 levels may be at risk if you have had bariatric surgery, take antacid medicine for acid reflux, are among the elderly, have a gastrointestinal autoimmune disease like Crohn's or celiac disease, or if you are a diabetic taking metformin.
6 Degrees of Vitamin B12- B12 Deficiency and Autoimmune Disease
How does lupus mimic vitamin B12 deficiency?
Many symptoms of lupus mimic those of vitamin B12 deficiency, making it difficult to determine low B12 levels without taking a vitamin B12 blood test.
Cognitive functioning and mood disorders. Anxiety, depression, headaches, and short-term memory loss are symptoms common to both lupus patients and vitamin B12 deficiency sufferers.
Chronic fatigue. Chronic fatigue shares a comorbid relationship with lupus and B12 deficiency.
Nerve damage. Vitamin B12 deficiency causes neurological damage such as aching joints and arthritis-like muscular pain.  Lupus causes swollen joints, arthritis, and inflamed joints.
Shortness of breath is a symptom of low B12 and lupus.
Hair loss. B12 deficiency may cause premature hair loss and greying.  Hair loss is also a symptom common to lupus patients.
Mouth ulcers are typical for vitamin B12 patients and lupus sufferers.
Skin rashes are a side effect of chronic B12 deficiency.  Likewise, lupus patients suffer skin rashes across the cheeks and nose (malar rash).
Anemia. One of the most highly correlated symptoms shared by vitamin B12 deficiency patients and lupus patients alike is the susceptibility to anemia.  Left untreated, pernicious anemia from vitamin B12 deficiency can lead to severe nerve damage, red blood cell depletion, and cognitive impairments. More than half of all lupus patients suffer from blood disorders like anemia.
Heart disease. Lupus and pernicious anemia patients alike are at high risk for contracting heart disease.
Bone loss (osteoporosis) is a risk factor for lupus patients and individuals with vitamin B12 deficiency.
Read more about B12 deficiency and autoimmune diseases:
Vitamin B12 and your Bones- Osteoporosis from B12 Deficiency
Female Rapper Missy Elliot, 15 Celebs with Thyroid Disorders
Best 15 Twitter Feeds to follow for Autoimmune Disease Info
Sources:
Lupus Hope- Get Your B12 Levels Checked!
Lupus Foundation of America- Blood Disorders
Vitamin B12 For Lupus & Crohn's Disease- LIVESTRONG.COM
Image credits, from top: