A popular sports supplement, Jack3D, was recently banned in England for potentially lethal side effects. Find out what the killer ingredient is, and which vitamin supplements are safe alternatives for maximum energy, metabolic integrity, and sports performance.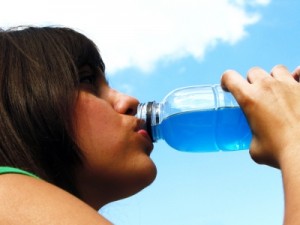 A six-pack to die for
Jack3d, by USP Labs, claims to improve your workout by giving you more stamina, boosting your metabolism, and yielding quicker bodybuilding results.
But watch out for some deadly side effects that are linked with the popular sports supplement, which contains a harmful stimulant known as DMAA (dimethylamylamine).
UK watchdog, MHRA (Medicines and Healthcare products Regulatory Agency) claims that the hazardous sports supplement constricts your arteries and raises your heart rate, causing hypertension and increasing your risk for heart attack and stroke.
Lethal side effects
Side effects attributed to the energy drink include:
High blood pressure
Heart palpitations
Shortness of breath
Headaches
Vomiting
Stroke
Heart attack
Death
Lawmakers get busy
The UK is the first to issue a nationwide ban against the makers of Jack3d, but the US is following suit, as a New York lawmaker has already demanded millions of dollars in a class action lawsuit.
The FDA is also conducting its own investigation on the possibly toxic sports supplement.
Safe, healthy energy
Looking to boost stamina, maintain a healthy metabolism, and build muscle? Look no further than the natural vitamins and minerals that are intrinsically formulated to provide maximum health benefits and prevent flagging energy caused by common vitamin deficiencies.
Your B vitamins are among most essential nutrients for optimized sports performance, and should be included as part of your workout supplementation.
For Energy, Choose Vitamin B12 over Monster Drinks
Thiamine (vitamin B1), riboflavin (vitamin B2), niacin (vitamin B3), pyridoxine (vitamin B6), and cobalamin (vitamin B12) all work together to
Maintain DNA synthesis
Convert fatty acids and glucose into energy
Sustain good muscle coordination
Ensure red blood cell production for oxygen
Build protein for strong muscles
For a list of more natural sports supplements, read this- Boost Athletic Performance, Part 2- 12 Vitamins and Minerals
Check your B12 levels!
Out of all the B vitamins, cobalamin, vitamin B12 is the one that's hardest to maintain. That's because there are many factors that impair your ability to absorb vitamin B12 from the foods you eat and incorporate it into your bloodstream.
Things like autoimmune disorders, gastric bypass surgery, inflammatory bowel disease (IBD), diabetes, migraines, old age, and alcoholism are all strong risk factors for vitamin B12 deficiency.
To make sure you're getting the most from your workout, supplement with extra vitamin B12 on a weekly basis.
Win Free B12 Patches!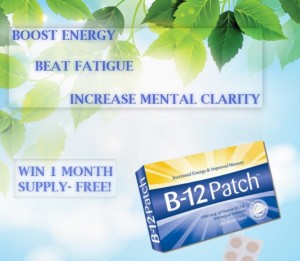 Now through February 10, 2013, enter to win a free month's supply of the B12 Patch! No obligations to enter, no purchase necessary. Submit your entry on our Facebook page.
Your turn!
Do you have any questions or suggestions?  Please leave your comments below.
Share with your friends!
If you found this article helpful, then please share with your friends, family, and coworkers by email, Facebook, or Google+.
Like this? Read more:
Will Vitamin B12 Boost Energy if I don't have B12 Deficiency? YES!
Boost Energy Now! 20 Practical Tips for Fighting Fatigue
Sources:
Jack3d sports supplement banned in Britain over fears it may have lethal side-effects

Image(s) courtesy of healingdream/FreeDigitalPhotos.net