If your body stores vitamin B12 in the liver for years, how does vitamin B12 deficiency happen? Even if you eat plenty of foods that supply vitamin B12 (cobalamin), such as meat and fish, you might still run the risk of developing severe vitamin B12 deficiency that can culminate in pernicious anemia or nerve damage.  What conditions and lifestyle choices affect your B12 levels?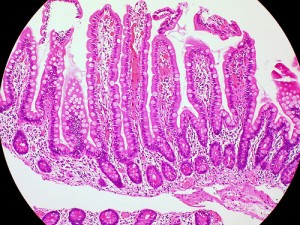 Vitamin B12 deficiency today
Vitamin B12 deficiency is the leading form of vitamin deficiency, affecting nearly 40% of people between the ages of 26 and 83, according to a Tufts University study on B12 deficiency.  For elderly individuals, the risk of low B12 levels is 20%.
Vitamin B12 helps your body protect the nervous system's myelin sheath; as a result, B12 deficiency symptoms may include painful tingling or numbness in the hands, feet, and tongue, muscular weakness, difficulty walking, frequent clumsiness, altered sense of taste, burning mouth syndrome, and eye twitching.
For a list of more symptoms of B12 deficiency, read B12 Deficiency: Don't Ignore the Symptoms
Four roads to vitamin B12 deficiency
#1 Not eating meat
Vitamin B12 is a water-soluble nutrient that occurs exclusively in animal-based food items.  The basic food sources of vitamin B12 are meat, poultry, fish, eggs, and milk.  Contrary to popular opinion, brewer's yeast does not contain vitamin B12, although it does supply other essential B vitamins.  Purple and green seaweed are the only naturally rich vegan sources of B12.  So, if you follow a vegan diet and do not eat generous portions of nori every day, then you are likely to develop B12 deficiency over the course of several years.
The top food sources of vitamin B12 are:
lean beef and chicken
organ meat (liver, heart)
fish (halibut, herring, salmon)
shellfish (oysters, clams)
Eggs
Cheese (Swiss, Muenster)
Milk products (yogurt, whole milk)
#2 Not making enough stomach acid
If you're over 50, there's a 30% chance that you suffer from atrophic gastritis, a general wearing down of your stomach lining.  As a result, your body doesn't produce enough stomach acids to fully absorb vitamin B12 and deliver it to the small intestines. Insufficient stomach acids may also lead to bacterial overgrowth, which also interferes with vitamin B12 absorption.
Other people at risk include individuals taking protein pump inhibitors (PPIs) for gastroesophageal reflux disease (GERD), ulcers, Zollinger-Ellison syndrome, and long-term antibiotic use.
#3 Not making intrinsic factor
Another chemical the stomach produces for digesting vitamin B12 is intrinsic factor.  Certain autoimmune disorders may inhibit your body's ability to absorb vitamin B12 by attacking stomach cells before they have a chance to produce this necessary protein.  Regardless of how many vitamin B12 supplements you swallow, the B12 never reaches the small intestines, so it never enters the bloodstream.  Pernicious anemia, resulting in diminished red blood cell production, is a common occurrence when intrinsic factor is lacking.
"I've heard of the X Factor and Fear Factor…But what's Intrinsic Factor?"
#4 Gastrointestinal conditions and surgeries
The ileum of the small intestine is responsible for digesting vitamin B12.  Located at the very bottom of the intestinal tract, the ileum grabs vitamin B12 and dispenses it to your blood supply.  But if your ileum is not working properly, then you cannot derive the many benefits of vitamin B12.
Gastrointestinal factors that interfere with B12 absorption are:
Inflammatory bowel disease (IBD) such as Crohn's and colitis
Celiac disease
Fibromyalgia
Gastrointestinal surgery for Crohn's
Gastric bypass surgery
What's the solution?
It's simple.  If you are unable to get your vitamin B12 from dietary sources, then the only other option is to bypass the digestive system and redirect B12 directly to your bloodstream.  Below are some popular methods of supplementing vitamin B12 without using the stomach.
Vitamin B12 shots: B12 require a prescription from a doctor.  Because of the size of cobalamin molecules, B12 shots are usually painful, and must be inserted into thick muscular tissue, such as the thigh or buttock.  Even if you have a high threshold to pain, the idea of having to take vitamin B12 injections for the rest of your life can be worrisome.
Sublingual B12 pills: The jury's still out on the effectiveness of sublingual vitamin B12 tablets that dissolve under the tongue; whether they actually enter the bloodstream or just travel through the digestive system is under debate.  Your physician might prescribe B12 pills to be taken three times per day.
Vitamin B12 sprays and creams: There is insufficient data to support the use of nasal sprays or lotions as a means of combatting vitamin B12 deficiency.
Read more about vitamin B12 deficiency:
Gastrointestinal Surgery for Crohn's (IBD) and B12 Warnings
6 Food Cravings that Signal Vitamin Deficiency
Ten Bites to Better Brain Power
Sources:
Are you getting enough of this vitamin?
B12 Deficiency May Be More Widespread Than Thought
Vitamin B12 Sources and Bioavailability
Images, from top: