Stress-Free Trips for Children with Autism
Summer's here. Now what?
It's only the middle of the summer, and already your kids are climbing the walls looking for something to do.  If you are a parent of a child with autism, then you understand that your child finds comfort in structure.  If your son (or daughter) has spent the school year learning in a special education class geared towards children with autism spectrum disorder (ASD), then he's used to living by a rigid timetable with scheduled activities, naps, and mealtimes.  Your task is to provide a similar environment at home, while keeping up with your regular weekday routine, such as work, housekeeping, laundry, and local errands.  Support for Parents of Autistic Children
A little bit of structure can go a long way.
With a bit of planning, you can put together a day schedule of summer activities that meets both you and your autistic child's needs.  Instead of planning long, overwhelming field trips that nobody will enjoy, take mini-field trips on assigned "family trip days." Fill up the rest of your time slots with simple, inexpensive activities that are spaced far apart.  Allow for quiet spells, including your own "me" time.  Remind your child periodically what the agenda of the day is, in order to spare him of any surprises.  Have all your things ready the night before, including sunscreen, lunches and snacks, clothes, and craft materials, like paper, glue, markers, and child-safe scissors.
Here are 10 summertime activities that the whole family will enjoy: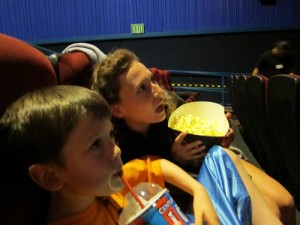 See a sensory-friendly movie at AMC. Going to the movies can be stressful with small children, especially if you have children with special needs.  Why pay all that money on movie tickets and popcorn, when you know the dark room, the scary trailers, and the loud noises frighten your child?  AMC Entertainment offers special movie showings for families with autistic children.  The lights stay on, the volume is child-friendly, and your children can get up, move around, and talk without being shushed by angry moviegoers.  It's like home, only with a bigger TV screen.
Visit your local science museum. Science and natural history museums offer many fun activities for children of all ages.  Yearly memberships are often inexpensive, and allow you the freedom to visit whenever you like.  In addition, you'll receive notification of special events.  Ask your curator what the quietest hours are for the museum, and plan your visit accordingly.
Get a pool membership. All kids love the pool, and autistic kids are no exception.  Visit your local city council for a list of recreational pools in your area, including swim lessons.  Take advantage of pool time to practice some aquatic therapies for children with autism.
Explore nature. Go on a nature walk with your family.  Some parks feature special trails for the handicapped or stroller-bound.  Have a picnic lunch in a shady grove.  Collect pinecones, acorns, branches, and other natural artifacts, keeping away from poison ivy or state-protected wildflowers.  When you get home, prepare a nature craft for your kids to do while you wind down.  Give them some glue, strong cardboard, and glitter, and show them how to make a leafy collage of their park souvenirs.  Or, supply googly eyes and pipe cleaners, and see who can make the scariest pinecone creature.  6 Great Diets for Autistic Children
Make a memory album. Bring disposable or digital cameras on all your ventures, and end each week by assembling photo album pages to go into your summer memory book.  Autistic children in particular will benefit from the visual reminder of all the fun things they accomplished.
Visit your local library. Reading to your child is an essential tool for broadening their vocabulary.  Kids with ASD benefit greatly from story time, as it teaches them the words they need in order to better communicate.  Have an early dinner, and visit your library during the quiet evening hours.
Play musical games. Music therapy is an essential part of special education classrooms.  All children, whether autistic or not, enjoy moving to background music.  Encourage your children to express themselves through dance by leading them in musical games, such as Freeze Dance or Musical Chairs.
Make homemade play-dough. Autistic children require sensory experiences for brain development.  Commercial modeling clay can be expensive, so why not make it yourself?  The Ultimate Book of Kid Concoctions has dozens of simple science crafts you can do with your kids, including several formulas for play dough, including a scented clay made with applesauce, cinnamon, and white glue.
Wash your car. Sometimes, what adults consider as chores can be fun activities for kids, and running a "car wash" is at the top of the list.  You supply the buckets, suds, and cloths, and your kids can go to town while you supervise in the shade.  Alert your friends and neighbors, and invite them to participate.
Run in the sprinklers. If you water your lawn in the early morning or evening hours, send your kids outside to play tag under the watery sprays.  If you're feeling adventurous, fill up a few water balloons and show them how to play Hot Potato.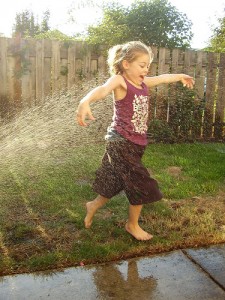 Related reading:
8 Great Tracking Devices for Autistic Kids, GPS+
10 Great iPad Apps for Autistic Children
Special Needs for Special Pets: Animal Therapy Success Stories
Sources:
Autism: Summer Activities for the Autism Spectrum Crowd : Laura Shumaker : City Brights
5 Great Summer Activities To Do Outdoors With Your Kids | Autism Learning Felt
Leisure Activities For Kids With Autism | LIVESTRONG.COM
Activities For Kids With Autism | LIVESTRONG.COM
The Medford Sun – 10 inexpensive summertime activities for children with autism