Guitar Heroes for Kids with Autism
A musical video game which uses the same technology as Guitar Heroes may be used in special-needs classrooms as an educational autism treatment.
Designed by John Steven, graduate of the University of Abertay Dundee, the newly publicized computer kids game teaches young students with autism spectrum disorder about basic colors and shapes in a visually appealing, non-intimidating atmosphere.
Music and colors soothe children with autism
In this interactive game, players are persuaded to click on keys which correspond to various geometric shapes; children are rewarded with different musical chords at each click, depending on which shape they choose. With each correct answer, a virtual flower begins to grow and eventually bloom by the end of the game. Studies have found that children with autism learn better with programs which incorporate melodies, colorful images, repetitive movements and positive reinforcement. The video game utilizes similar guidelines, followed by many popular forms of autism therapy which help children learn to relax and focus in the classroom.
In a world which is filled with many limitations and "can't do's," John's video game is a breath of fresh air for autistic children who rarely feel a sense of control in the classroom. Whether at home or at school, special needs children are able to complete each simple, progressive goals and feel a sense of accomplishment while, at the same time, learning important developmental skills.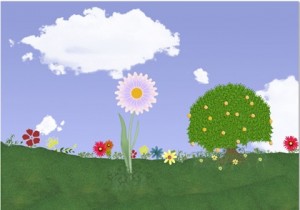 Filling the video game void for children with autism
The video game was introduced at the university's Creative Sound Production Graduation Ceremony.
John Steven was influenced by his mother, who has worked with special-needs children in the classrooms. He laments that similar educational video games for autistic children are practically non-existent.
But don't expect to see his invention on the video game market just yet. "There's so much more work to do, from testing and developing the game further to finding a company to work with to build a prototype controller. This is just the start," he says.
For information about how autistic children can benefit from vitamin B12 supplements, please read Autism, B12 and Your Child
More good reads:
10 Great iPad Apps for Autistic Children
Top 10 Children's Books Which Raise Autism Awareness
Celebrities for Autism Awareness Month
Sources:
http://www.sciencedaily.com/releases/2011/05/110526064340.htm
http://www.thecourier.co.uk/Living/Digital/article/14289/game-for-autistic-children-features-at-abertay-digital-graduate-show.html
http://treatments4autism.blogspot.com/2011/05/music-game-for-children-with-autism.html